Good morning, lovelies! So happy that it's Thursday. Not sure if it's just how I feel but for some reason the first week back after vacation seems to take forever, doesn't it? Luckily we're almost there :)
Today I wanted to share with you a guest post from one of my favorite blogging friends, Connie from
Sogni E Sorrisi
. Connie is the greatest girl and I seriously would love to meet her one day. Her blog is chock full of everything I love from fashion, to design, to celeb style and weddings, to sports {soccer & we share a love of hockey}, tv {she's a Gossip Girl & Lost guru} and books {she has a great book review every Monday and I always end up feeling guilty that I don't carve out the time to actually read these days...:)} I'm so thrilled that she agreed to guest post here! Well that's enough from me... Now I'd like to pass you on to
Connie
and her fabulous fashion tips for transitional wear.

Thank you
Connie
for being here! xoxo

Karlie Kloss - Photo by Stockholm Street Style



Hi everyone! Connie from

Sogni e Sorrisi

here, blogging while Dawn is on vacation. I was so honored when Dawn asked me to fill in her for her, but then I started wondering what I should post about. I'll admit that I've been hesitant to even think about fall, because summer is short enough as it is and I won't do anything to move things along. Still, the colder months are looming, as well as those problematic weeks when you're not sure what to wear, which is why pieces that can work in any season have always appealed to me (I am the queen of layering).
Blair in Theory -
Gossip Girl
Season 4
I also must admit that, when dressing myself, I gravitate towards clothing that is easy to throw on. I love pieces that need only a few accessories to create a polished look, which is why a belted shirtdress has always appealed to me. Simple, chic and easy to move from summer to fall and beyond, this is a staple that can work in anyone's wardrobe.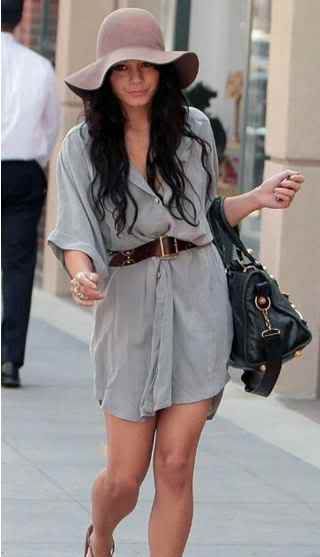 Vanessa Hudgens is a big fan of the shirtdress
A shirtdress is the perfect breezy choice for those hot summer days when you want to look great and not melt all at the same time (easier said than done, I know). Worn with gladiator sandals or a pair of chunky platforms this is also a look that can easily take you from day to night.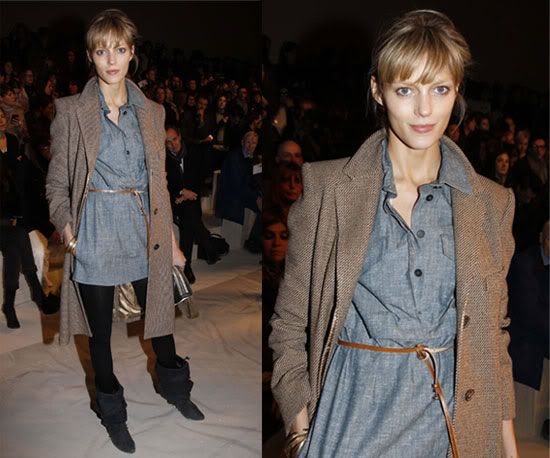 Perfect for Fall - Model Anja Rubik
Once the colder weather arrives just trade in the sandals for a pair of slouchy suede boots, add a pair of leggings and a coat, if necessary, and
voilà
the shirtdress reimagined and ready for a whole new season of service.
So tell me, do you have a favorite piece of transitional clothing?