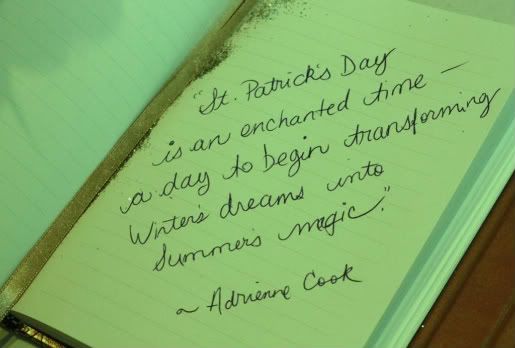 For each petal on the shamrock
This brings a wish your way -
Good health, good luck, and happiness
For today and every day
~Author Unknown


Happy St. Patty's Day, lovelies! Most people I know have at least a little tiny bit of Irish in them somewhere and even if they don't, they become Irish for the day to celebrate anyway. I mean it's not a bad day to celebrate now, is it?
And although I don't really look it, I have a bit Irish in me myself. My mother's father is part Irish. Alright so he's also German and Dutch but who's counting, right? :)
I'd love to know, are any of you Irish? And if not, do you celebrate the day anyway?
Wishing you all good health, happiness & much luck throughout the years!
Oh and I apologize for not getting around to your blogs yesterday. St. Patty's Day also for me means the day before J's bday. So every single year, no matter how hard I try not to, I'm making the mad dash a few days before to try to get everything ready. Still not quite done yet so I'll have to fight off the drunken crowds {NYC becomes quite the place today} in order to finish up. Wish me luck! :) And I hope to be around soon to catch up. xoxo